Organise your wedding in the beautiful surroundings of nature in a real castle - Uroczysko Siedmiu Stawów Luxury Hotel & SPA by L'Occitane.
Wedding ceremony and wedding party are one of the most romantic moments in life of every couple. We propose you to organise these unique celebrations in the beautiful surroundings of nature in a real castle erected among water reservoirs and old forest stand, at Uroczysko Siedmiu Stawów Luxury Hotel & SPA by L'Occitane in Gola Dzierżoniowska near Wrocław. Our qualified personnel and the magic surroundings of nature will make your outdoor wedding ceremony and wedding party at the castle become an unforgettable and special event. An outdoor wedding ceremony provides the possibility to celebrate the oath of love in very romantic setting, among rustling trees and singing birds. More and more couples decide to celebrate one of the most beautiful moments in their life in this way. Marvellous reminiscences which will stay to the end of your life are worth unique setting. Additionally, great freedom in agreeing upon the conditions of the course of the wedding ceremony and of the wedding party, which is often unachievable in a church, results in the fact that we may realise our unique dreams about the celebration which will run according to the own scenario of the wedding couple. Make your dream about the wedding ceremony and the wedding party which will stay in your memory forever come true!

Like from tale
Thanks to the luxurious interiors, exquisite dishes and proper music, we will provide you with the possibility to celebrate these special moments in the ideal conditions.
PROFESSIONAL SERVICE OF AN OUTDOOR WEDDING CEREMONY AND WEDDING PARTY INCLUDES:
Location in the most beautiful scenery of Lower Silesia, among meadows and in the surrounding of historical park complex, organisation of the wedding ceremony outdoors or in the castle with participation of a civil registrar, access to the water & recreation centre for the wedding Guests, the most luxurious hotel suite with jacuzzi on the terrace available for the Wedding Couple, comfortable rooms for the Guests at an attractive price with extended check-out time on the departure day, welcoming of the Wedding Couple in a traditional way, dedicated wedding menu, professional service, picturesque locations for photo sessions, free car park for wedding Guests.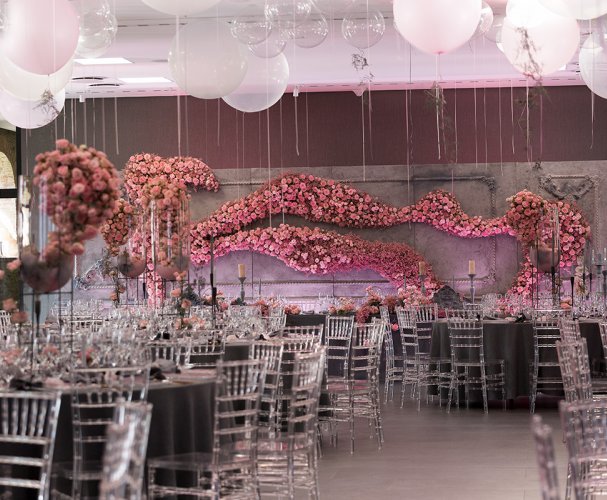 SPECIAL EVENTS
Our offer includes also individual organisation of special events, including birthday / name-day parties, christening parties, communion parties, promotion parties or banquets. If you want to organise your wedding ceremony or wedding party outdoors in Lower Silesia or near Wrocław, it is worth selecting a proper place for that - the one which will give unforgettable reminiscences to the end of your life.
WE ALSO RECOMMEND ADDITIONAL SERVICES:
procedures in SPA by L'Occitane organisation of hen and stag parties and after-parties, transfer of wedding Guests, decoration of the wedding room in a thematic way.
WE INVITE YOU TO COOPERATION
tel. + 48 885 544 103, +48 885 544 110 e-mail: sprzedaz@uroczysko7stawow.com